After looking at the following maps and what they signify, you'll coming to the conclusion that nuclear renaissance is a feint meant to distract the public from their true objectives which, in my opinion is storing nuclear waste at Yucca Mountain.
Most of the spent nuclear fuel is being stored mainly in the eastern half of the United States as shown the maps below. Then if you consider that this area is also where most of the nuclear reactors are located while the rest of the country only has a few reactors in their backyards. This squeeze play comes about after the Barnwell nuclear waste storage closes its door to all the states except for New Jersey, South Carolina and Connecticut.
Locations of Independent Spent Fuel Storage Installations
Map of Power Reactor Sites
Locations of Uranium Milling Facilities
Nuclear Waste Transportation Routes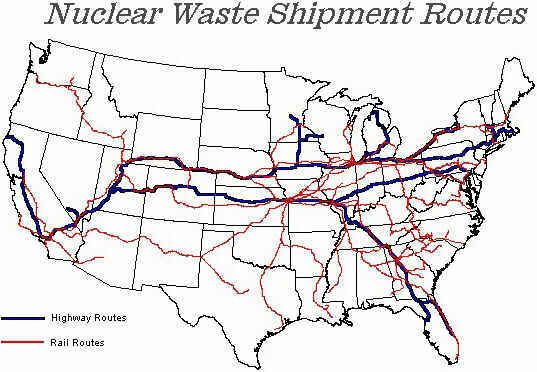 Finally this map reinforces my theory that the nuclear renaissance is another chic word like global warming. If you notice on a previous map the Southeast has the highest concentrations of nuclear reactors but on this map the Southeast is not pursuing clean energy as a goal. In other words they'd rather take the chance of a major catastrophic failure at one of their nuclear reactors than to contribute in reducing global warming and reduce the amount of nuclear waste.
Is this risk worth it?
Renewable Electricity Standards at Work in the States
Now to end this, I feel that in Congress the southeastern states are a self-serving voting bloc while the western, northeastern and midwest states are not as organized and therefore cannot win any major concessions on clean renewable energy and probably can't stop the upcoming federal subsidies and loan guarantees promoting the nuclear energy industry.